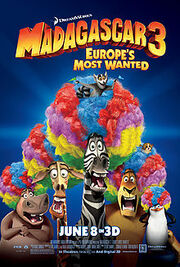 Madagascar 3: Europe's Most Wanted is a 2012 American 3D computer-animated comedy film, produced by DreamWorks Animation and distributed by Paramount Pictures. It is the third installment of the Madagascar series, and it is the first in the series to be released in 3D. The film is directed by Eric Darnell, Tom McGrath and Conrad Vernon. The film's world premiere was at the 2012 Cannes Film Festival on May 18, 2012.
Alex, Marty, Melman, and Gloria are still struggling to get home to New York. This time, their journey takes them to Europe where they are relentlessly pursued by the fanatical Monaco-based French Animal Control officer Captain Chantel DuBois (Frances McDormand). As a means of getting passage to North America, the zoo animals purchase a failing traveling circus as they become close friends with the staff like Vitaly (Bryan Cranston), Gia (Jessica Chastain), and Stefano (Martin Short). Together, they spectacularly revitalize the business and along the way find themselves reconsidering where their true home really is.
Madagascar 3: Europe's Most Wanted was released on June 8, 2012, to critical and commercial success; it is the best-reviewed film in the series, with a 79% "Certified Fresh" approval rating on the review aggregate site Rotten Tomatoes.[5] It is also the highest-grossing Madagascar film with a worldwide gross of over $742 million.[
Section heading
Edit
Write the first section of your page here.
Section heading
Edit
Write the second section of your page here.